Ischemia, Tolerance, and Hibernation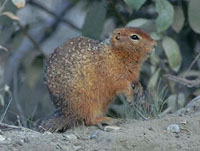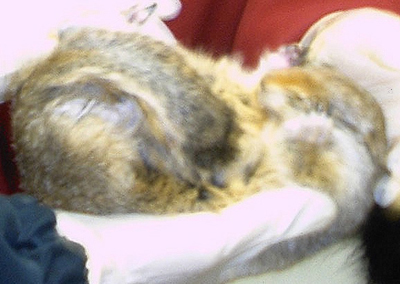 Artic Ground Squirrel (shown on right in hibernation)
According to Centers for Disease Control, 600,000 Americans suffer stroke annually, including 500,000 new cases and 100,000 recurrences. National Heart, Lung and Blood Institute reports indicate that 4.6 million Americans currently live with the affects of ischemia. Ischemia costs upward of $32 billion annually in the United States with few therapeutic options for physicians and their patients.
The Arctic ground squirrel (AGS) is the only known mammal capable of lowering its body temperature to below freezing during hibernation. The species also tolerates prolonged periods of restricted cerebral blood flow (ischemia) with minimal neuronal cell death. This may be an evolved response to pronounced fluctuations in blood flow and metabolism associated with transitions into and out of hypothermia, as suggested by Dr. Kelly Drew at the University of Alaska Fairbanks. This distinguishes AGS from other species and emphasizes the novelty and utility of this model organism.
Visit the Arctic Biology Institute in Fairbanks, Alaska at www.iab.uaf.edu to discover unique programs about hibernation.
In order to test the hypothesis that genetic factors contribute to ischemia tolerance in AGS, Neuronascent minimized the influence of environmental factors by preparing hippocampal neuronal stem cells obtained from adult Arctic ground squirrels. We found that these neuronal stem cells produce neurons that are less susceptible to stroke-like conditions than other neuronal cells, including human neurons. The proteins that confer this tolerance to AGS neurons provide potential targets for the development of novel stroke therapeutics. Neuronascent researchers are identifying these cellular protein targets that allow for this tolerance in order to synthesize small-molecule compounds that will cross into brain and become a stroke or TBI therapeutic.
For more information on stroke, please visit the National Stroke Association at www.stroke.org.
---
Arctic ground squirrel neuronal progenitor cells resist oxygen and glucose deprivation-induced death
By Kelly L Drew, Matthew Wells, Rebecca McGee, Austin P Ross, Judith Kelleher-Andersson
Abstract
AIM: To investigate the influence of ischemia/reperfusion on arctic ground squirrel (AGS) neuronal progenitor
cells (NPCs), we subjected these cultured cells to oxygen and glucose deprivation.
METHODS: AGS NPCs were expanded and differentiated into NPCs and as an ischemia vulnerable control, commercially available human NPCs (hNPCs) were seeded from thawed NPCs. NPCs, identified by expression of TUJ1 were seen at 14-21 d in vitro (DIV). Cultures were exposed to control conditions, hypoxia, oxygen and glucose deprivation or glucose deprivation alone or following return to normal conditions to model reperfusion. Cell viability and death were assessed from loss of ATP as well as from measures of alamarBlue® and lactate dehydrogenase in the media and from counts of TUJ1 positive cells using immunocytochemistry. Dividing cells were identified by expression of Ki67 and phenotyped by double labeling with GFAP, MAP2ab or TUJ1.
RESULTS: We report that when cultured in NeuraLife™, AGS cells remain viable out to 21 DIV, continue to express TUJ1 and begin to express MAP2ab. Viability of hNPCs assessed by fluorescence alamarBlue (arbitrary units) depends on both glucose and oxygen availability [viability of hNPCs after 24 h oxygen glucose deprivation (OGD) with return of oxygen and glucose decreased from 48151 ± 4551 in control cultures to 43481 ± 2413 after OGD, P < 0.05]. By contrast, when AGS NPCs are exposed to the same OGD with reperfusion at 14 DIV, cell viability assessed by alamarBlue increased from 165305 ± 11719 in control cultures to 196054 ± 13977 after OGD. Likewise AGS NPCs recovered ATP (92766 ± 6089 in control and 92907 ± 4290 after modeled reperfusion; arbitrary luminescence units), and doubled in the ratio of TUJ1 expressing neurons to total dividing cells (0.11 ± 0.04 in control cultures vs 0.22 ± 0.2 after modeled reperfusion, P < 0.05). Maintaining AGS NPCs for a longer time in culture lowered resistance to injury, however, did not impair proliferation of NPCs relative to other cell lineages after oxygen deprivation followed by re-oxygenation.
CONCLUSION: Ischemic-like insults decrease viability and increase cell death in cultures of human NPCs. Similar conditions have less affect on cell death and promote proliferation in AGS NPCs.
Key words: Neurogenesis; Neuronal progenitor; Hypoxia tolerance; Hibernation
© The Author(s) 2016. Published by Baishideng Publishing Group Inc. All rights reserved.